NAMA will participate in the Mines and Money 2012 exhibition at the Islington Business Design Centre in London, December 2-6th.  NAMA will be at stand 25A at the exhibition. For more information about the exhibition please visit the Mines and Money website.
November 15-16th, NAMA´s CEO Vilhjalmur Vilhjalmsson, will be a speaker at the Arctic Marine Logistics and Infrastructure Forum held at the Radison Blu Hotel in Amsterdam. Mr. Vilhjalmsson will be addressing the challenges of Mineral exploration and Logistics in Greenland.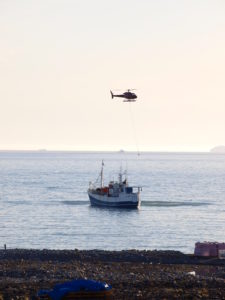 NAMA´s vessel M/S Fjola being unloaded at Melville Bugt in Greenland this summer.